About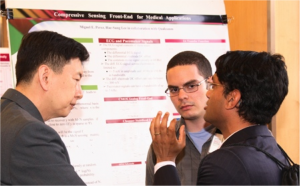 Advancements in Medical Devices are leveraging electronic, miniaturization and information technology to enable improved diagnostics, treatment, prosthetics, and healthcare collaboration across disciplines.
Building on the Medical Electronic Device Realization Center workshops at MIT for the past 5 years, convening physicians and healthcare professionals together with engineers and researchers in microtechnology, electronics, medical devices, and systems in a 2-day interactive conference.
This year we plan to organize the conference through the IEEE Life Sciences and IEEE SSCS (Boston Chapter) to extend the reach of the event .
The IEEE Life Sciences  is an institute-wide Technical Community that reaches a wide range of leaders, including distinguished researchers, medical professionals, and participants from diverse technical fields.
IEEE is dedicated to advancing technological innovation and excellence for the benefit of humanity. IEEE and its members inspire a global community through IEEE's highly cited publications, conferences, technology standards, and professional and educational activities.  IEEE has over 400,000 members in 160 countries.
The IEEE Boston Section is one of the largest and most active in hosting technical meetings, short courses, and conferences with 8,500 members.